COVID UPDATES
June 13, 2022
Covid testing guidance, updated on June 13, 2022
Please review the updated guidance for pre-camp covid testing, REQUIRED!
May 23, 2022
Updated Summer Camp Parent Checklist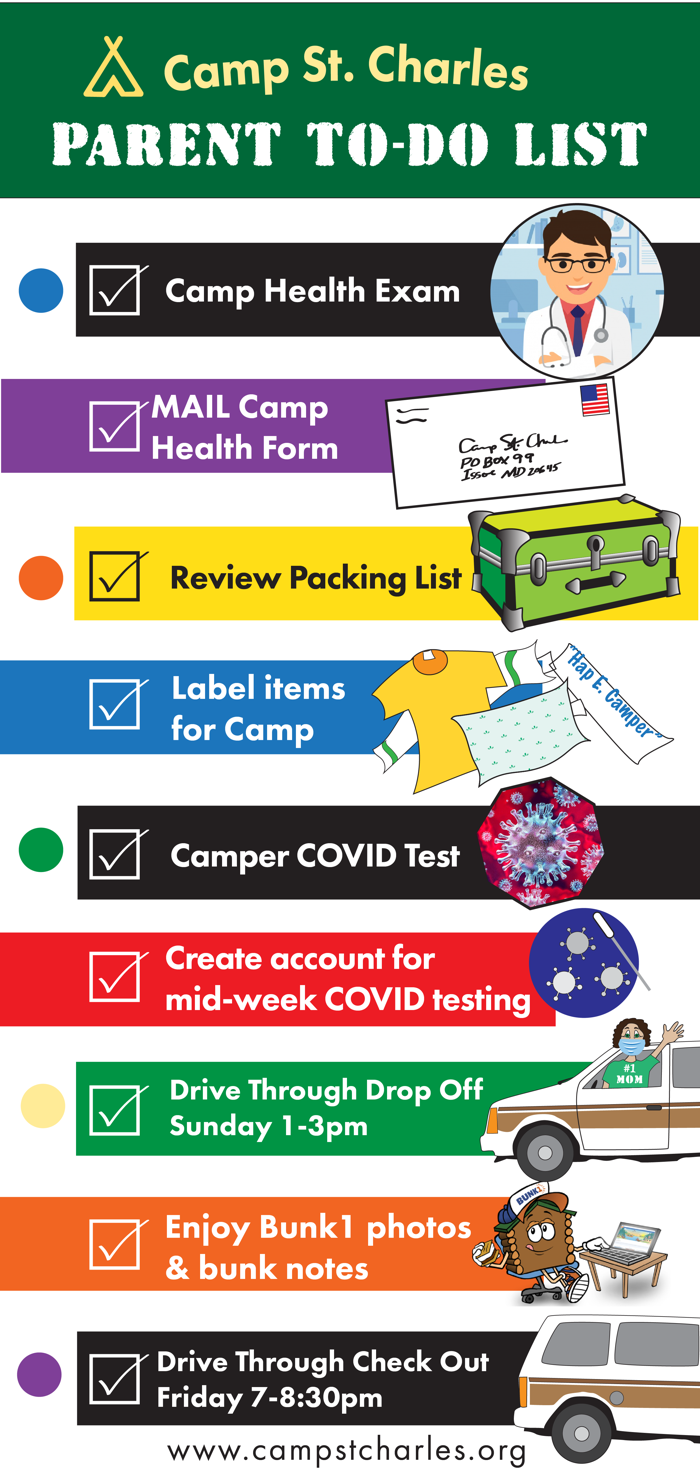 May 20, 2022
Video Message from the Camp Director (previously shared by email)
Campers will need a lab conducted covid test prior to arrival at camp and campers and staff will be tested weekly while at camp this summer. Visiting day is not part of our 2022 program, due to continuing covid concerns and our desire to provide more interaction between groups of campers withing the imperfect bubble of camp. We are offering both one and two week camp sessions with layers of covid precautions that also prioritize our camp program. We are going to have a great summer and appreciate your support of our efforts.
2022 Camp St Charles Covid Operating Plan
Pre-Camp Covid Testing Guidance
At Camp Covid Testing Registration
April 4, 2022
Last week, we attended an online town hall event presented by the American Camp Association and the Centers for Disease control. The purpose of the event was to make recommendations to summer camps regarding covid protocols for summer. The town hall was helpful in presenting camps with options for scaling up covid precautions as needed if infection rates increase.
The panel was very clear that overnight camps. like Camp St Charles, as a unique community, formed from many other communities. As the CDC shifts to a community based approach, we recognize that our summer camp community will be formed from children from around the region and country. The experts stressed the need for pre-arrival covid testing and at camp testing to safely gather our summer campers. Use of cohort groups continue to be a important part of summer camp planning. We also must balance our program goals with our covid mitigation strategies.
Feedback from the 2021 season indicated that campers really want to have more interaction with campers in other cabin groups. The desire for more interaction was communicated clearly in our survey data. Learning from 2021 CSC operations and a wealth of data from other camp operations, we will continue to monitor covid rates in our region and beyond and will adjust our protocols as needed.
Pre-camp testing is an important step that we need all camper parents to take in order to meet our goal of more interaction between camper groups during their time at CSC. Pre-arrival testing is free when required for travel. We will continue to update our recommended testing options for parents on the "camp forms" tab, found under "current camp families" on this site.
By having parents take this important step (covid testing) prior to arrival at camp, we can form an imperfect bubble at camp during each session and can relax on some other covid precautions or meet the intent in new ways. For example, in 2021,because we used cohort groups, we had just a few times when campers were asked to wear face masks. We put on masks when entering the mess hall and when leaving the mess hall. We can acheive the same goal of avoiding close contact between groups by staggering how we manage campers entering and leaving the mess hall. Campers who prefer to continue to wear a mask are welcome to continue to do so. Masks are not permitted while sleeping or in the event of extreme heat.
Parents can view the current covid protocols for 2022 below. These are likely to be revised and we anticipate guidance from the State of Maryland and our local health department, which may not be issued until much closer to summer. There are two aspects of the plan that we do not expect to change and they are pre-camp and at camp covid screening tests and visiting day is not part of our 2022 program. We hope to bring visiting day back for the 2023 season. Without our visitind day, we are keeping our bubble in tact at camp, we can safely allow more interaction between cabin groups during the second week of our two week camp sessions.
We have spent and will continue to spend a lot of time navigating our covid mitigation plans for camp. Thanks for your patience.
March 7, 2022
The last two years have shown us that all of our plans must be flexible. I recently visited some local schools to share flyers about CSC and I was struck by the wide range of covid protocols in place at schools that are located very near one another. It was a reminder to me to approach this season with grace and compassion that we are coming for a wide range of experiences and day to day norms to build our summer camp community. From these varied perspectives, the CSC plans may seem overly restrictive or not restrictive enough. We are thoughtfully approaching these plans with our experiences from 2021 and with an eye on the current covid data. We may adjust before summer and we wanted to share our current thinking about summer camp protocols. Thanks for your understanding and patience.
2022 Camp St Charles Covid Protocols ***Subject to Change
Jan 1, 2022
Registration for summer 2022 is underway and some sessions are filling up. The COVID 19 situation continues to change and present challenges for all of us. Camp St Charles will continue to seek input from our local health department, the Maryland State Health Department, CDC and our camp physicians and nurses to establish protocols for the 2022 season. Thank you for your patience.
Oct 2021
We are enrolling campers for our 2022 Summer Camp Season. For 2022, we will return to full capacity in our cabins and we are offering one week sessions in June and then longer camp sessions later in the summer. We do not yet know if we will be able to resume our traditional visiting day at camp during the longer camp sessions, but we hope so. Many, many aspects of camp will depend on guidance from the local health department and the Maryland Health Department. For last season, the procedures were updated in late May. We are hopeful for information a bit earlier in the season for 2022. Updates will be shared here. Thanks for your patience in the process.
We will begin registration for our 2022 summer camp season by Nov 1, 2021. Our operating procedures are subject to guidance from the Maryland Health Department.
We also encourage parents to use the BUNK1 APP and OPT in to SMS updates. Through your child's entire camp stay, we would love to be sure that our updates are reaching you promptly. Use the same log in details from your existing bunk1 account. This is also where you will view camp photos and send bunk notes. (Parents will receive more bunk1 guidance in the camp parent welcome folder, the same information can be found on the camp forms page here.)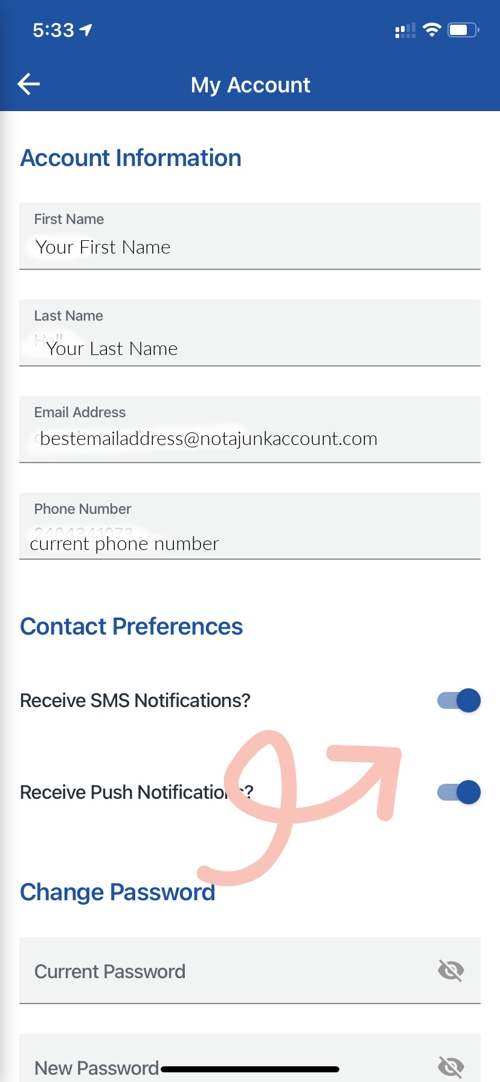 Sheri Belisle, Registrar registration@campstcharles.org 240-233-3106
Laura Hall, Director director@campstcharles.org, 301-934-8799