COVID UPDATES
April 4, 2022
Last week, we attended an online town hall event presented by the American Camp Association and the Centers for Disease control. The purpose of the event was to make recommendations to summer camps regarding covid protocols for summer. The town hall was helpful in presenting camps with options for scaling up covid precautions as needed if infection rates increase.
The panel was very clear that overnight camps. like Camp St Charles, as a unique community, formed from many other communities. As the CDC shifts to a community based approach, we recognize that our summer camp community will be formed from children from around the region and country. The experts stressed the need for pre-arrival covid testing and at camp testing to safely gather our summer campers. Use of cohort groups continue to be a important part of summer camp planning. We also must balance our program goals with our covid mitigation strategies.
Feedback from the 2021 season indicated that campers really want to have more interaction with campers in other cabin groups. The desire for more interaction was communicated clearly in our survey data. Learning from 2021 CSC operations and a wealth of data from other camp operations, we will continue to monitor covid rates in our region and beyond and will adjust our protocols as needed.
Pre-camp testing is an important step that we need all camper parents to take in order to meet our goal of more interaction between camper groups during their time at CSC. Pre-arrival testing is free when required for travel. We will continue to update our recommended testing options for parents on the "camp forms" tab, found under "current camp families" on this site.
By having parents take this important step (covid testing) prior to arrival at camp, we can form an imperfect bubble at camp during each session and can relax on some other covid precautions or meet the intent in new ways. For example, in 2021,because we used cohort groups, we had just a few times when campers were asked to wear face masks. We put on masks when entering the mess hall and when leaving the mess hall. We can acheive the same goal of avoiding close contact between groups by staggering how we manage campers entering and leaving the mess hall. Campers who prefer to continue to wear a mask are welcome to continue to do so. Masks are not permitted while sleeping or in the event of extreme heat.
Parents can view the current covid protocols for 2022 below. These are likely to be revised and we anticipate guidance from the State of Maryland and our local health department, which may not be issued until much closer to summer. There are two aspects of the plan that we do not expect to change and they are pre-camp and at camp covid screening tests and visiting day is not part of our 2022 program. We hope to bring visiting day back for the 2023 season. Without our visitind day, we are keeping our bubble in tact at camp, we can safely allow more interaction between cabin groups during the second week of our two week camp sessions.
We have spent and will continue to spend a lot of time navigating our covid mitigation plans for camp. Thanks for your patience.
March 7, 2022
The last two years have shown us that all of our plans must be flexible. I recently visited some local schools to share flyers about CSC and I was struck by the wide range of covid protocols in place at schools that are located very near one another. It was a reminder to me to approach this season with grace and compassion that we are coming for a wide range of experiences and day to day norms to build our summer camp community. From these varied perspectives, the CSC plans may seem overly restrictive or not restrictive enough. We are thoughtfully approaching these plans with our experiences from 2021 and with an eye on the current covid data. We may adjust before summer and we wanted to share our current thinking about summer camp protocols. Thanks for your understanding and patience.
2022 Camp St Charles Covid Protocols ***Subject to Change
Jan 1, 2022
Registration for summer 2022 is underway and some sessions are filling up. The COVID 19 situation continues to change and present challenges for all of us. Camp St Charles will continue to seek input from our local health department, the Maryland State Health Department, CDC and our camp physicians and nurses to establish protocols for the 2022 season. Thank you for your patience.
Oct 2021
We are enrolling campers for our 2022 Summer Camp Season. For 2022, we will return to full capacity in our cabins and we are offering one week sessions in June and then longer camp sessions later in the summer. We do not yet know if we will be able to resume our traditional visiting day at camp during the longer camp sessions, but we hope so. Many, many aspects of camp will depend on guidance from the local health department and the Maryland Health Department. For last season, the procedures were updated in late May. We are hopeful for information a bit earlier in the season for 2022. Updates will be shared here. Thanks for your patience in the process.
We will begin registration for our 2022 summer camp season by Nov 1, 2021. Our operating procedures are subject to guidance from the Maryland Health Department.
July 11, 2021, We have made a few small tweaks to our check in and check out procedures. For check in, we have removed the reference to temperature checks since campers are covid tested prior to arriving at camp, we do not need to conduct temperature checks upon arrival at camp.
Here is the check out process for Friday nights, at the end of each camp session.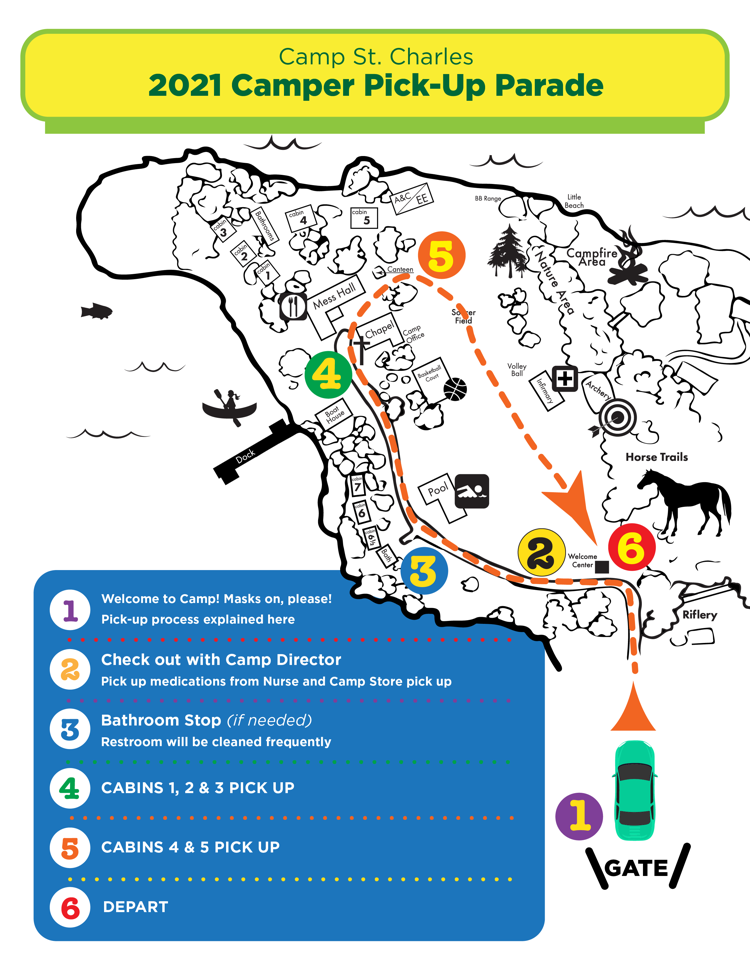 July 5, 2021
Many people have reached out to ask if the Governor's July 1 announcements are changing the procedures at Camp St. Charles.
Summer camp regulations from the health deparment and the CDC have not changed. We will continue with our 2021 operating plans. Since campers are providing a negative covid test or vaccine record, we are able to keep our cohort groups together and do not need to wear masks except for brief periods of time when going into or out of the mess hall.
Campers who are fully vaccinated should provide their vaccine record and do not need a covid test to come to camp.
Campers who are NOT fully vaccinated should have a PCR covid test conducted 1-3 days prior to arriving at camp. We recommend scheduling a test on the Thursday prior to camp.
Please email the results or covid vaccine records to coviddocs@campstcharles.org with SUBJECT: Camper's Full Name and Session
If your camper will be attending more than one consequtive week at camp and they are not fully vaccinated, they will need to have another covid test conducted on the Saturday in between camp sessions. Results may not arrive in time for check in thought documentation that the test was conducted should be submitted prior to check in.
Thank you for your help in making camp possible this summer! We are so happy to have campers back this summer and we anticipate returning to our two week camp schedule for the 2022 season.
Revised on June 17, 2021
Camp parents are encouraged to upload their child's negative covid 19 test OR covid 19 vaccine record to their bunk1 account. This will help our check in process to go smoothly and will avoid any stress over forgotten documents.
We have made a change to our process. Please EMAIL your child's vaccine record or covid test results to coviddocs@campstcharles.org with SUBJECT LINE: (Full Camper's Name) Session (number and letter)
Arriving on June 20 Session 1a
Arriving on June 27 Session 1b
Arriving on July 4 Session 2a
Arriving on July 11 Session 2b
Arriving on July 18 Session 3a
Arriving on July 25 Session 3b
Arriving on August 1 Session 4a
Arrviing on August 8 Session 4b
We also encourage parents to use the BUNK1 APP and OPT in to SMS updates. Through your child's entire camp stay, we would love to be sure that our updates are reaching you promptly. Use the same log in details from your existing bunk1 account. This is also where you will view camp photos and send bunk notes. (Parents will receive more bunk1 guidance in the camp parent welcome folder, the same information can be found on the camp forms page here.)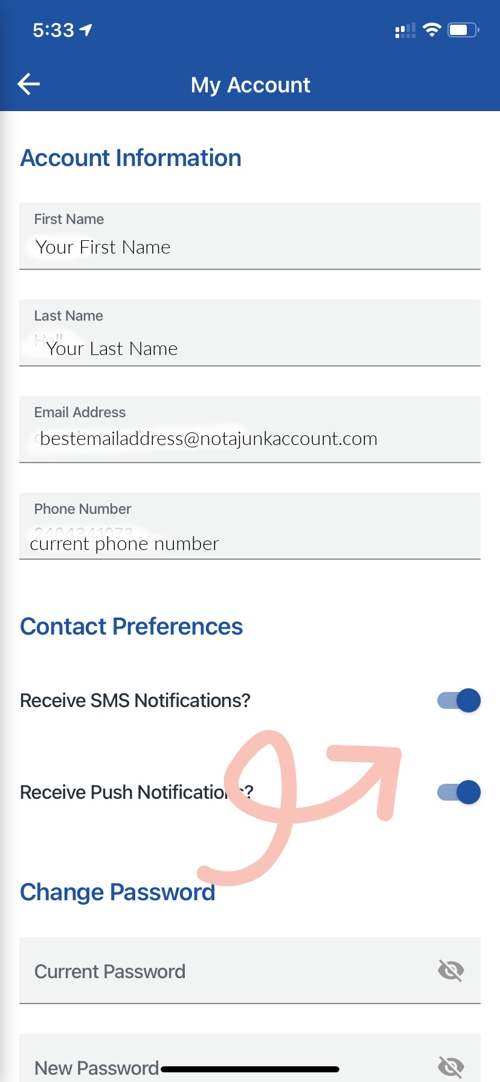 Posted June 4, 2021
Today's meeting does not have an updated from Maryland, so we are still waiting.
Posted June 1, 2021
We will be joining in a meeting with the state of MD later this week to learn more about the updated CDC guidance for camps. Thanks for your patience.
Posted May 27, 2021
Maryland camps are awaiting updated guidance from the state, specifically regarding the testing requirement and if fully vaccinated campers will be required to provide a recent, negative covid test upon arrival at Camp. There is a meeting scheduled for June 1 which we will hope will give some clarification. In the meantime, we are preparing for summer!
Posted May 12, 2021
Email sent to enrolled camp families here.
Posted May 11, 2021
Camp St. Charles COVID Operating Procedures
**Subject to change with changing guidance from various governing agencies.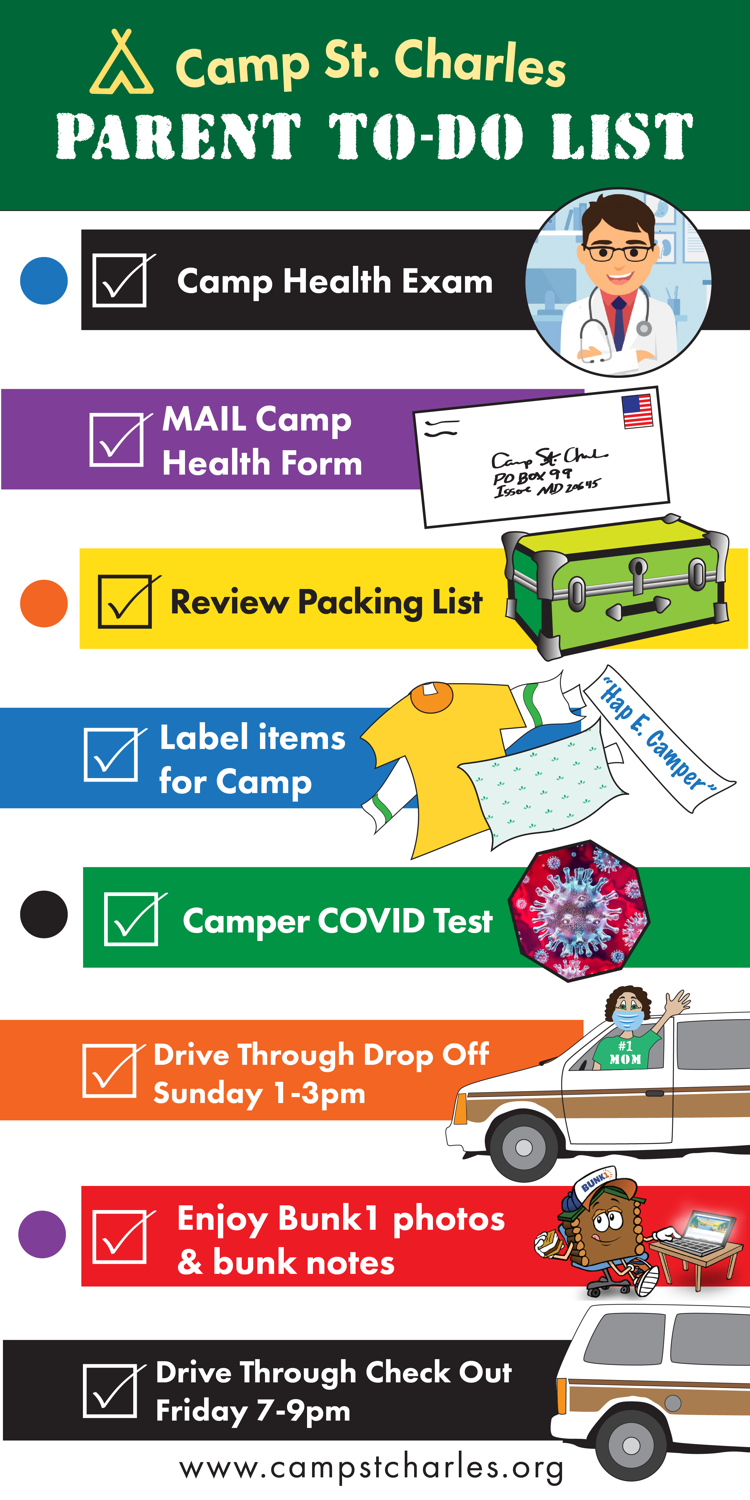 Posted May 7, 2021
Last call for cabin requests! For 2021, our cabin groups and team groups are the SAME group. Due to covid, we must keep our campers together in cohorts. This means that campers in different age groups (including siblings) will not be housed in the same cabin. In order to keep our cohort groups together and run our program areas appropriately, our cabins assignements will be different for 2021.
Cabin mate requests are optional. Campers may list up to 3 names of campers of the same gender and age group that they wish to share a cabin with. Send all requests to Sheri, registration@campstcharles.org by Monday, May 10.
Posted May 5, 2021
Your child will need to bring a recent, negative covid test to camp for check in.
This will allow us to form households at camp, within each cabin. Our reduced capacity cabins will each house 13 campers and those campers will be able to interact without masks when they spend time as a household, without interacting with campers from other households. Campers will wear masks when they are around members of other cabin groups, etc. This is big news and a change that we were hoping would get. Since campers cannot sleep in masks and are sharing housing, it is reasonable to have those small cohort groups interact more like a household, after a negative test.
Posted April 26, 2021
Registration is open for new and returning campers. There is limited remaining availability. Please note that campers attending back to back weeks must be collect from camp on Friday evening and the end of one camp week and returned to camp on the check in Sunday. The time between sessions will be used for cleaning and time off for our wonderful camp counselors.
We received a big update to camp recommendations from the CDC and we will be sharing more about that soon.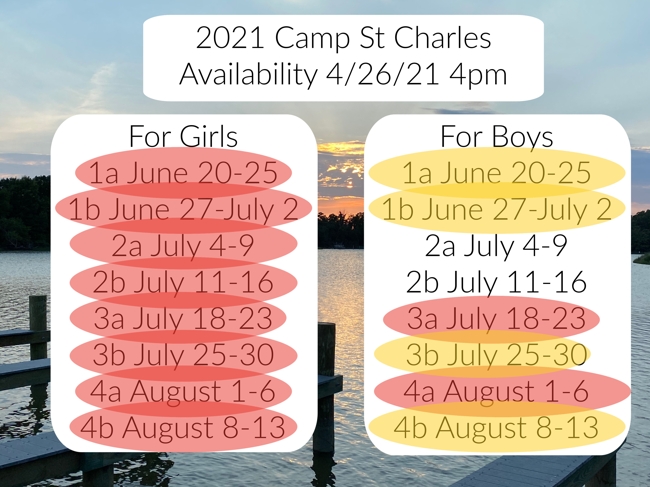 Posted April 21, 2021
We are wrapping up the length wait list of over 120 names this week. Sheri deserves a medal for all of the extra calls and emails to try and place campers in their preferred sessions with their buddies. We hope to open registraiton up for families to select additional weeks on Monday, April 26. Enrolled families will receive an email update with availability and instructions for enrolling.
Though we are still awaiting guidance from the health department regarding pre-camp screening, we anticipate the campers will need to bring a recent negative, covid PCR test. This is more than what is required for attending other activities since our campers will be staying in shared housing and will not be wearing masks while sleeping.
Posted April 12, 2021
We have moved to the waitlist! Sheri, our registrar, will reach to waitisted families if and when we have a space available. Please plan to enroll promptly or let us know that you are no longer interested in a space for your camper. Once we have placed the campers from the waitlist, any remaining space will be available for enrolled campers to select additional weeks. Check back here for updates!
Posted April 6, 2021
Email Sent on April 6 to CSC Subscribers
Posted April 5, 2021
We are currently wrapping up the updates of our 2021 enrolled families into the new 2021 camp schedule. This week, you may contact Laura Hall, Camp Director if you have any questions regarding your currently enrolled camper.
Beginning on Monday, April 12, we will be enrolling campers from the waiting list. We have heard from some families that our messages are not reaching your inbox. We recommend adding director@campstcharles.org, registration@campstcharles.org and csclaurahall@gmail.com to your contacts to improve delivery. Goverment email addresses, yahoo and hotmail seem to be the most likely to have delivery issues. If you would like to update the email address on file, please let us know the best email address to use for you. In additional to newsletters and updates, we will also communicate about cabin assignments, check in procedures and much more by email. Unsubscribing will prevent many important updates from reaching you.
Many parents have reaching out about seeking additional camp weeks. Once we have worked through the waitlist, we will be reach out to parents with the opportunity to select additional camp weeks, if available. Please keep in mind that all campers will need to be picked up at the end of one camp week and returned to camp at the beginning of their next session. We are not able to provide "stay over" care between sessions. The time between weeks will be for cleaning and time off for camp staff.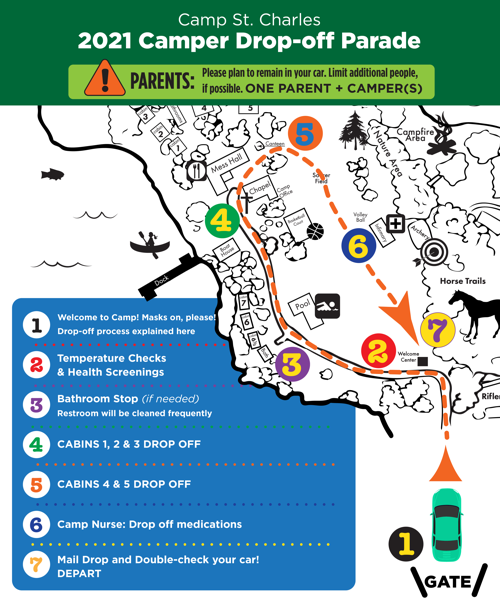 Posted March 30, 2021
Campers in Sessions III and IIIA are currently updating their enrollments to the revised 2021 camp schedule. Session IV and IVA families will make updates beginnig on Thursday, April 1.
Thank you, Thank you, the CSC community has been amazing through these updates. I am especially grateful for those who have being willing to change weeks in order to assist us in arranging for friends to attend together in the new schedule. Thank you!!
How to Update your Camp Registration
Please watch the video above to see how to find the application to update your registration in bunk1. It will point you in the right direction. Please do not make a payment but DO click "continue" on the final step to submit your update.
Once we have finished updating sessions and shift into placing campers from the waitlist, it will be time to really get prepared for summer! We will be hosting zoom events so that we can share our operating plans and help you and your campers to get ready for summer. We have a lot of excitement planned and we will have a great summer. New and returning campers are encouraged to join in the zoom meetings.
Posted March 25, 2021
Thank you to all the families who are helping the update process to go smoothly. We are so grateful.
Once we are finished updating our enrolled campers, wait list campers will have an opportunity to enroll. Then we will open enrollment for new and current families and families may wish to select additional camp weeks, if they wish.
Posted March 23, 2021
Here is the revised Summer 2021 summer camp information sheet. This document gives more detailed information about summer 2021 operations. Some procedures are subject to change based on changing guidance from the MD Health Dept and local health department. A major piece of our covid mitigation plan is to keep campers in their cabin group cohort groups.
Camp St. Charles 2021 Information Page
Posted March 18, 2021
We are updating the camp schedule so that we can welcome ALL of our enrolled camper while also limiting cabin capacity to 50% in order to meet the CDC recommended spacing between campers in our cabins. Keeping our camp population small is a big piece of our covid mitigation plan. Camp families will be receiving details about the new schedule and how to update their camp registration in the coming days.
Video Message about the revised 2021 Camp Schedule
Enrolled families will be invited to log into bunk1 and make updates to their child's camp registration, on a schedule so that each session has an opportunity to select their preferred week. First, all Session I and IA families will be invited to make updates. We hope to keep the process moving quickly and bunk1 will have support staff available to assist parents with the process.
Video Message about how to update your campers' registration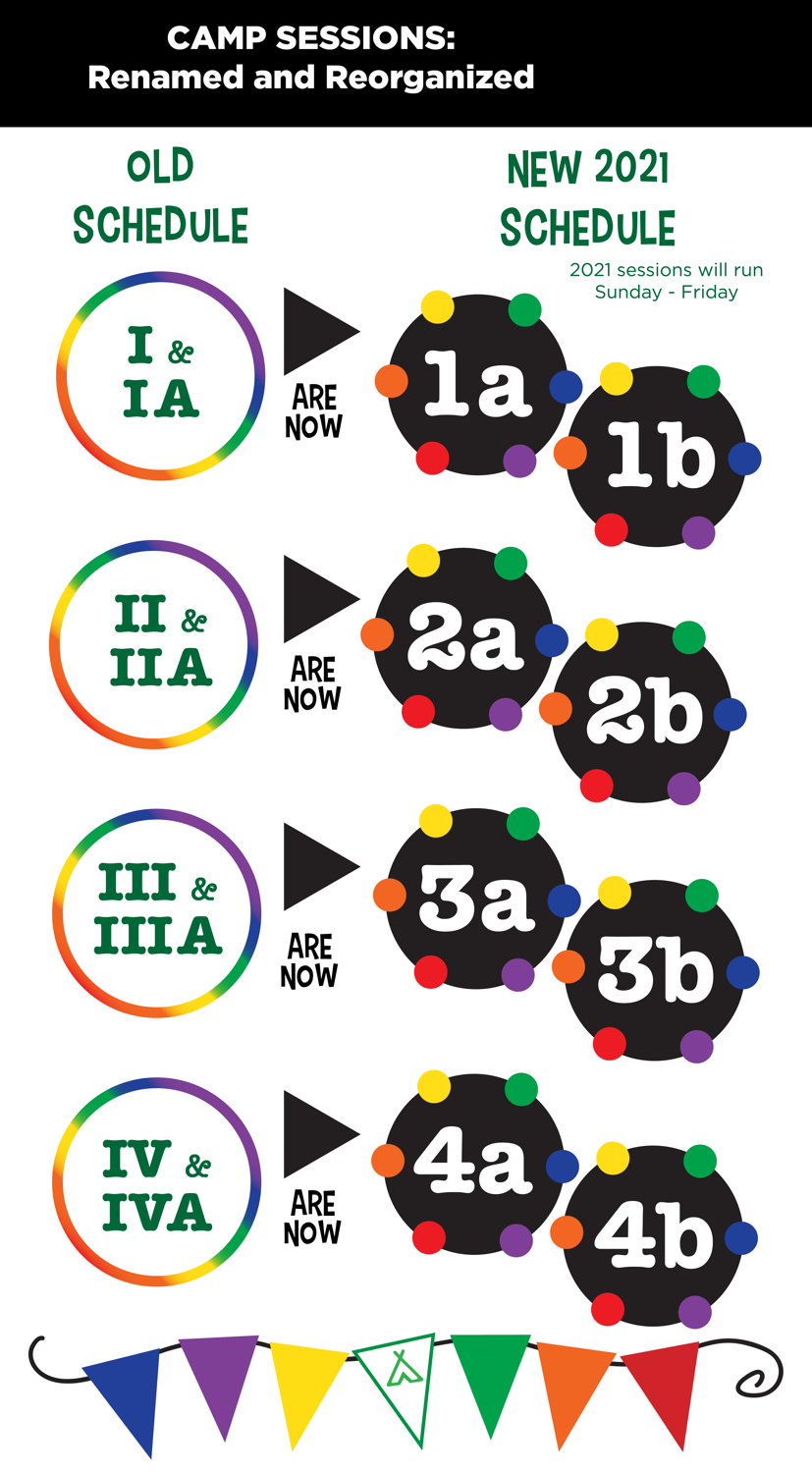 Posted March 11, 2021
Campers are returning to CSC this summer! We got good news from the Governor's office and we can plan with confidence following the CDC guidelines. I am working to prepare our covid protocols to share and will provide the detailed plans no later than March 31. Hang in there! Summer is coming!
Posted Feb 23, 2021
We are hoping that the state of Maryland will provide updated operation procedures for camps in March 2021. Regardless, we are working on plans for safe operations this summer.
. We are eager to welcome campers back to CSC with covid mitigation strategies in place. Our family camp operations in summer and fall helped us to envision a new way of hosting camp that keeps cohort groups together and includes much of our traditional program.
As a parent, I know that you are eager for details and want to have all of your summer plans buttoned up. Be on the look out for a comprehensive update in early April and an update if/when we receive new state guidlines.
Posted Feb 8, 2021
Last week, I participated in a town hall for camp leaders and representatives from camp licensing portion of Maryland DHMH. All of us are looking for more details about how camps will operate this summer and confirmation that overnight summer camps will be able to open. The current guidance is dated June 12, 2020 and camp leaders have requested updated guidelines by March 1 so that we can plan and prepare for summer. The state is not under any obligation to meet our request but we are hopeful for more information.
At Camp St. Charles, we are building our staff team and planning trainings for summer. We plan to operate using cohort groups of campers and precamp and during camp screening of campers and staff members. We are committed to providing a safe summer camp program for our campers and staff members and will implement a variety of strategies to acheive our goal.
Our current plans are all pending approval from the state of Maryland and we may ask parents to monitor their campers' temperature and symptoms prior to camp, covid testing prior to camp and encourage campers to limit interactions with those outside their family prior to camp. The state guidelines will guide our final plans but we will pre-arrival measures, testing of camp staff prior and during the season, cohort groups and notification of exposure or potential exposure.
Since we successfully hosted family camping events in the summer and fall, our team has experience with many strategies that will continue in summer 2021. For example, frequent sanitizing of shared equipment and spaces, more time outdoors, daily temperature checks, hand sanitizer prior to activities, additional handwashing stations and staggering meal and snack times, using masks and physical distancing.
Posted Jan 29, 2021
Many families are making payments right now to save on two week camp session tuition. The tuition rate on bunk1 is the early bird rate, the rates will go up by $100 on Feb 1, 2021.
If you are unsure of your registration status, please call or email and Sheri, our registrar, or I, Laura Hall, Director, would be happy to confirm your current status. You may also log into bunk1.com to log in with the family manager account to download an invoice that will confirm all of your camp enrollents for 2021. You can reach your bunk1 account by clicking on "Current Families" and scrolling down to "Registration" to log in with your existing account.
At the end of 2020, all enrolled campers were mailed a packet with a camp calendar, a 70th summer sticker, an invoice (in the oldest camper's packet) and cancellation insurance information. Please let us know if your packet did not reach you and let us know if your address has changed. Many families rolled their registrations to the new season, some cancelled, some moved a deposit, many donated a portion of thie 2020 tuition (THANK YOU) and some families reenrolled in the fall. This had been a long season of changes and juggling so we understand that it may be difficult to remember your status. We are happy to help.
Sheri Belisle, Registrar registration@campstcharles.org 240-233-3106
Laura Hall, Director director@campstcharles.org, 301-934-8799
Posted Jan 6, 2021
Many currently enrolled families have received a confirmation packet in the mail. Many parents have reached out to ask about 2021 operations and what will happen to their tuition payment if we are not permitted to operate this summer. We are very hopeful about 2021 operations and we are planning to host our summer camp program.
We will keep you posted on the details as we approach the summer. In the event that we are not permitted to operate, we will issue refunds. We are hoping and praying and planning to operate but will issue refunds if we are not able to operate.
Posted Jan 4, 2021
Happy New Year! We are in camp staff recruitment mode at Camp St. Charles! Check out the empoyment section (at the bottom of the website) for more details on available positions. Recent camp staff should contact Laura Hall directly to seek employment in 2021.
Posted Dec 28, 2020
Tomorrow we are hosting another FREE online camp activity. We will have a Christmas themed quiz event on zoom at 4pm eastern.
https://www.signupgenius.com/go/4090d4fa5a62aa1fc1-christmas
We are getting close to our fundraising goal but still have futher to go. Please give if you can. We are so grateful for the support in this challenging season!
https://charity.gofundme.com/o/en/campaign/camp-st-charles-2020-emergency-fund
Posted Dec 7, 2020
We are getting a lot of helpful information from camp that operated in 2020 that are helping us to plan for a safe summer in 2021. Detailed plans will have to wait since we will need guidance from our state and local health department but we are looking at ways to rethink our schedule and camp groups to create cohort groups who can enjoy camp together with covid precuations. Vaccine news may change the landscape a lot in the coming months. Thank you for your patience and support. As we wait for the specifics that will guide our plans, please consider purchasing insurance to protect your camp investment and provide greater flexibility than our cancellation policy. We want to be as flexibile as possible with families and there are many moving parts and 2020 has been a tough season for CSC.
Enrolled families will receive a mailing soon with the details about their enrollment, balance due, a 2021 count down to camp calendar, a 70th summer camp stickers and details about the activity/travel insurance options that apply to camp tuition. Please direct speciic questions to A+ Travmark, the insurance provider that we have partnered with for 10+ years.
Posted Nov 24, 2020
Camp St. Charles is an ACA (American Camp Association) accredited summer camp and retreat center. Being an ACA camp means that we meet standards that exceed those required by our state and we benefit from a wealth of knowledge from other camp programs. In these COVID times, we are part of a collective effort to plan for safe operations in our 2021 season. We are thankful for the collective knowledge and experience of the ACA. The ACA guidelines are a key part of our plans for summer 2021.
Posted Nov 2, 2020
During summer and fall 2020, we operated family camp programs and implemented a layered approach to covid mitigation. Our plan included daily monitoring of staff members, screening of guests upon arrival, additional cleaning and sanitizing of hands and shared equipment, mask wearing and a focus on outdoor activities. We are pleased to report that we did not have any covid cases related to our family camp activities.
As we look ahead to our 2021 summer season, we are building on our family camp program success to bring our campers back to Camp St. Charles. We are meeting with camps that operated in 2020 to learn from their experiences and to scale up from our family camping program. Though many things are fluid at this time, we are committed to the safety of our campers and staff. We are using guidance from the American Camp Association and from Maryland DHMH to revise our camp day to utilize cohort groups, additional sanitizing, additional handwashing and sanitizing, screening of campers and staff members and more.
We will be sharing updated plans here as they are developed. Thanks for your patience as we navigate these challenging times.
Camp St. Charles had partnered with A+ Travel to provide cancellation insurance options for camp families. We have worked with A+ for over a decade to provide families with options to protect their tuition investment. Some families used A+ to have greater cancellation flexibility for conflicts with youth sports or other flexible time lines. There are a number of options available and families are encouraged to consider protecting their camp tuition investment with A+ to have the greatest flexibility regarding the everchanging COVID landscape. Plan options can be found here.